These are the only "Custom Hand Engraved" Duck bands made out of contemporary metals on the web. Made in America for everyday wear to last a life time.
Frequently Asked Questions
Each ring is custom made we design it together. I draw what you tell me to onto the ring itself. If there are images or pictures I draw what you tell me based on photos you send me. Once I get the layout design drawn onto the ring I send you images to approve. Once you approve the drawing I cut the design or lettering into the metal by hand with gun engraving tools using a chisel called a graver.
Do I have a certain kind of ring?
I have what ever kind of ring you ask me to make. They are all designed by you the client based on the ideas and images you provide. I provide the drawing and the fill in the blank art work based on our conversation. We design your ring together what ever it happens to look like, is the type of ring I have.
What kind of metal is available?
Bands can come in titanium, stainless steel, black zirconium, gold, and platinum.
Titanium
Stainless Steel
Black Zirconium
Gold
Platinum
Do I have to come up with all the money up front?
No you don't have to come up with all the money at once up front. There are several payment plan options to make it easier to get the ring you really want.
Each ring is total custom start to finish. Price is based on how long it takes to draw and cut the design into the ring. The more detail and images the longer it takes to complete.
Pricing
Most people start off with a 1, 2, or 3 line duck band and then add images to fill the space at the back of the ring. Price is the cost of the ring plus the cost of the artwork. I have some example pricing below based on the time charge to draw and cut the image. If you are looking for something similar it will be priced along the same lines. If it is not below email me or give me a call for a quote.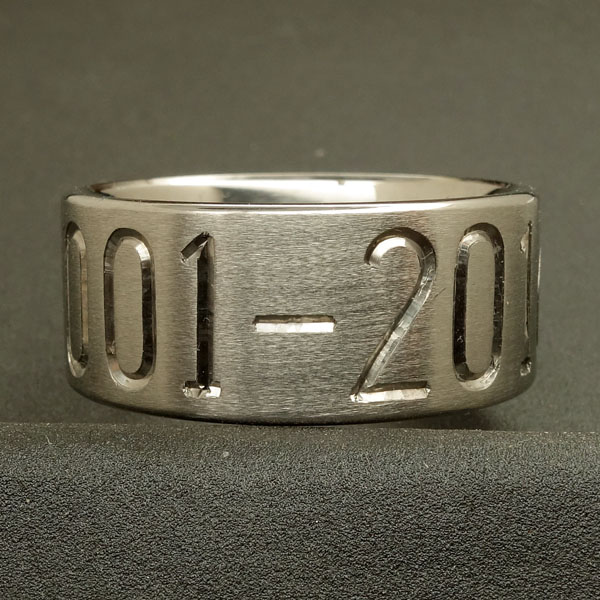 Single Line $200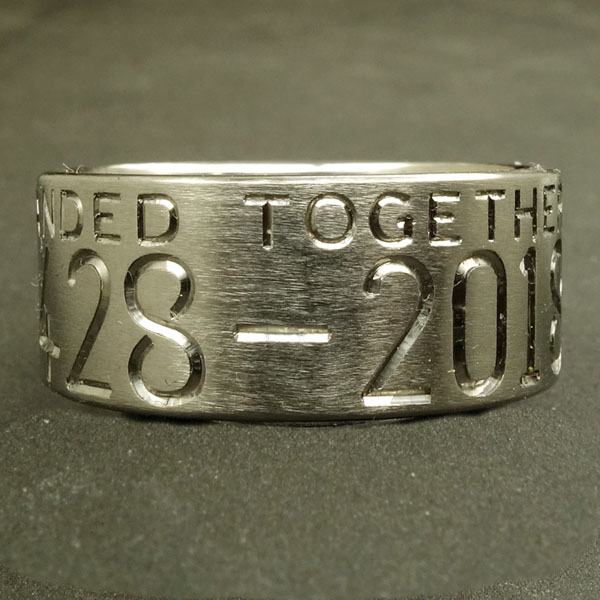 Two Lines $300
Three Lines $400
Price for the finished ring with text only and the number of lines on the ring are posted above, and all artwork is priced in addition to the price of the ring.
Or the cost of the ring plus set up, if it is an artwork only ring. The prices below are approximate prices for images similar of the item on the ring below, that you would provide. Google images, images of your mounted animal that we bring back to life, images you take yourself of your dog. Are good places to start for ideas and are where all the design ideas have come from. If your idea isn't there but something is close the price will be in that area.
Each ring being totally custom price is based on the time it takes to draw and cut the design into the ring. If you have an idea call (801) 875-3268 for a price quote.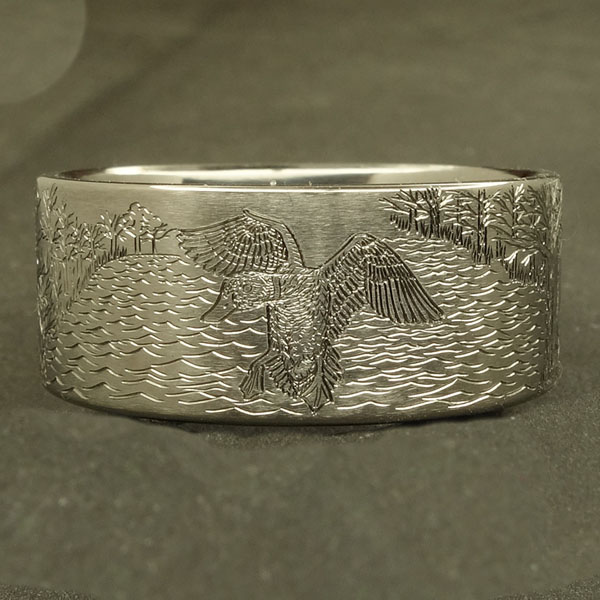 Duck of your choice add $400
Committed pair of ducks add $725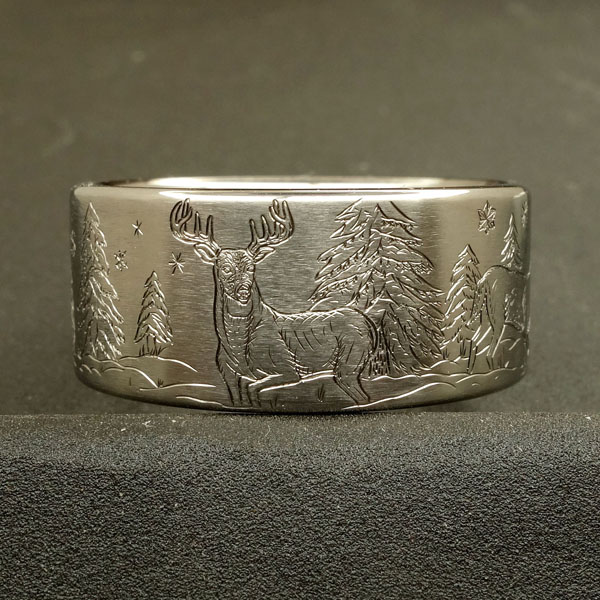 Deer of your choice add $375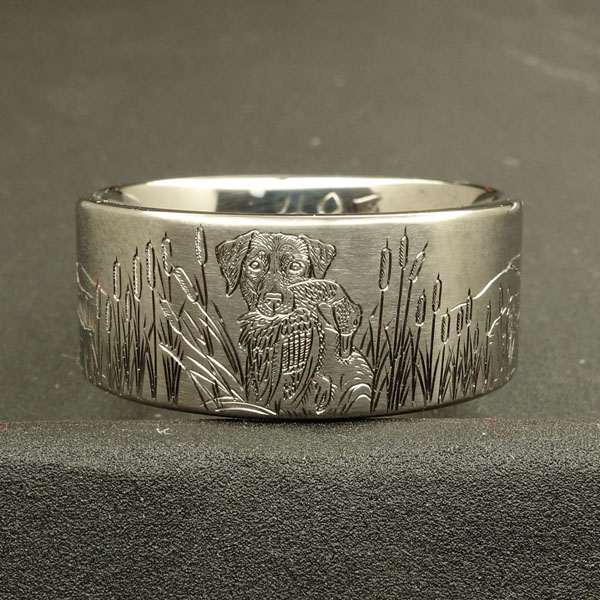 Your dog with a duck in it's mouth add $750.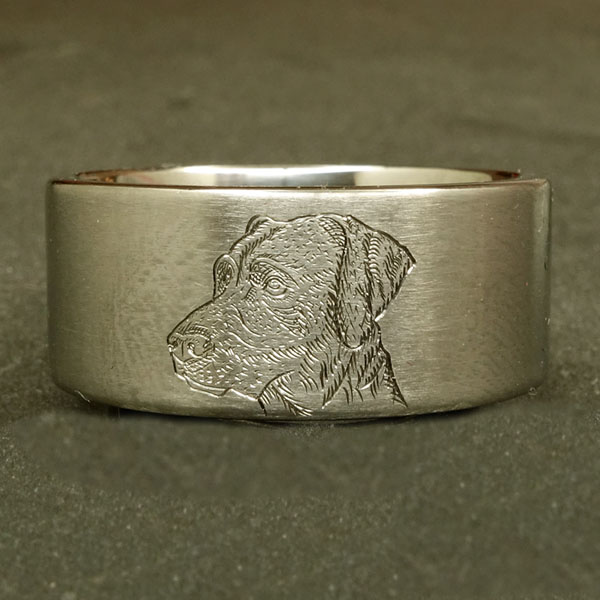 Your dogs head add $300
Tom turkey of your choice add $550
Bass if your choice or other fish
$250-$350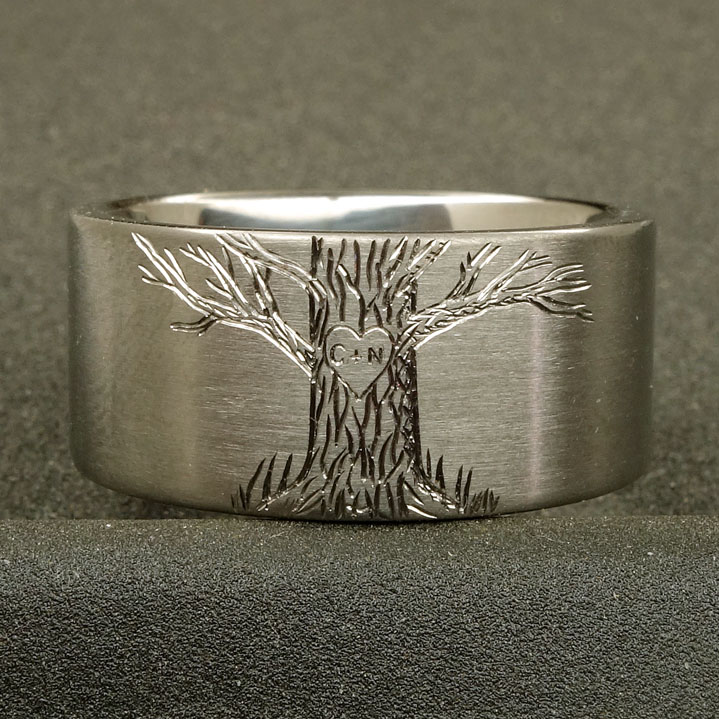 Sweetheart tree with initials in heart $200
Forest background or Cypress tree swamp $400-$800 based on tree type and coverage
Duck call dash $30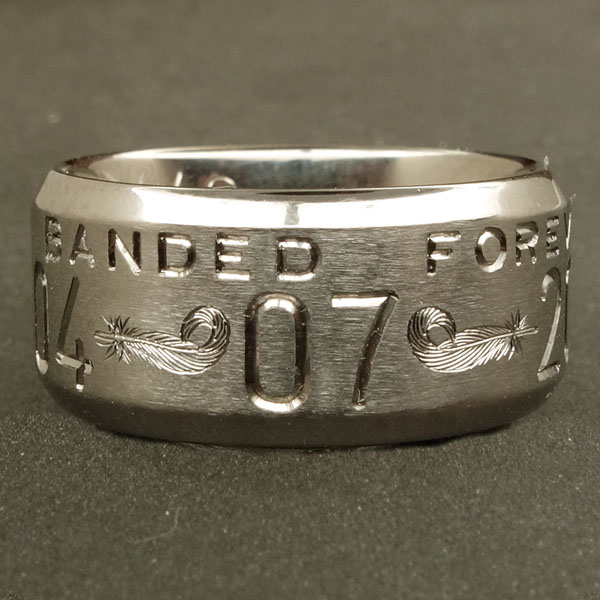 Duck feather dash $75 two for $125
Fishhook infinity dash $40
All designs and drawings engraved into each ring are charged based on time to create, as well as time to engrave. Like a tattoo you can start off with as little or as much as you would like. The beauty of Hand Engraving is that you don't have to get the full out scenery, you can add to it later as you like.
Remember that the ideas above are just what have been asked to be created so far. If you can think it up or have a photo or artwork you would like to see on a ring, I can make it for you!
To order, or if you have any other questions give me a call. My number is (801) 875-3268 and my hours are 9:00 A.M. ~ 5:30 P.M. Mountain Time USA.